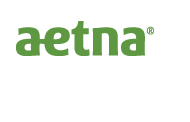 Home

Our brand story
Our Brand Story

The way we look at health care is changing. At Aetna, we are working every day to better meet your needs and see health care from your perspective. We want to make it easier for you to live healthier.
Connecting you to healthier living.
We want to be there for you when and where you need us. Knowing about your health and your family's health should be second nature. Feeling confident about your health decisions should be the norm. Living healthier should be easier. We want to help you get there.
Our new logo reflects this promise.
Vibrant. Energetic. Flexible. It shows our passion for helping you feel confident in your health care decisions, fitting into your life, and making it easier for you to live healthier. Connecting you to quality health plans, healthier living, financial well-being, and intelligent solutions.
With Aetna, the power of health is in your hands.
Please watch the video to hear our story
Aetna is the brand name used for products and services provided by one or more of the Aetna group of subsidiary companies, including Aetna Life Insurance Company and its affiliates (Aetna).
 
Secure login
US Toll free:
+1 800 914 2177
Telephone:
+44 (0) 208 774 6252
International Service Center (Available 24-hour)
Direct or collect:
+1 813 775 0190
US Toll free:
+1 800 231 7729

More details